For the past five years, we have sailed south... spending 4 winters in the Bahamas and one in the Keys. Now... 4 of those transits we departed in February... so while there is no plan to head south... yet, there is always the possibility in February that we might BOLT! However, departing in February last year and arriving in Miami to 32 degree nights dampens our concept that heading south we will find WARMTH! LOL!

So, Merry Christmas, Happy Holidays and HAPPY NEW YEAR, ya'll!
Poor Moonlight Serenade is covered with snow and COLD as she sits in her Solomons Island slip wondering, "WHAT HAPPENED?" All I can tell her is, "Spring is only 4 months away..." Due to the economy, family obligations and those crazy curve balls life brings, we aren't sailing south this winter. The good news is that many systems, teak trim, rails, etc, are getting "tweeked" and are running/looking better. Yesterday I removed all of the canned food and drink off of her and checked the heater. It was at least nice to find no ice on the water... yet.
May 12, 2010, we departed Green Turtle Cay, Bahamas. The next two days we traveled to two deserted islands as we made our way west, heading for the Gulf Stream and home. Allens-Pensacola is a 4 hour sail away.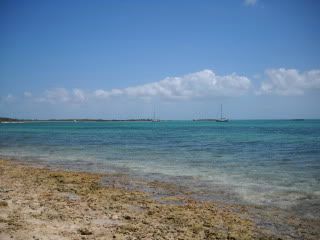 Moonlight Serenade anchored at Allens-Pensacola
Our first anchorage is at Allens-Pensacola; a "U" shaped island open only to the west and protected from weather on all other sides. It is beautiful there; rugged and deserted.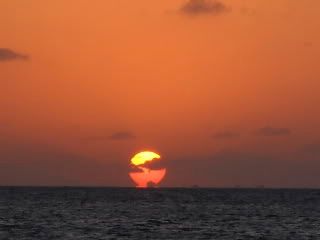 Sunset at Allens-Pensacola Sunrise at Allens-Pensacola

We departed Allens-Pensacola early, heading to Great Sale Cay, a 7 hour sail. Great Sale Cay is the last island to the west on the Little Bahamian Bank, almost due north of Freeport. Many cruisers come here for their last night's sleep before heading back to the USA, which at minimum is an overnight sail.



Desserted Great Sale Cay

We departed Great Sale Cay at first light, around 5:30 AM, and headed west north west off the Little Bahamian Bank: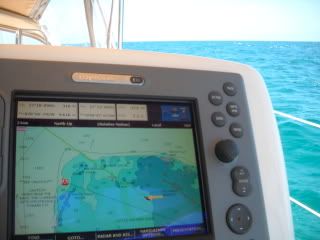 The pale blue is the deep ocean; Gulf Stream to the left. The aqua blues are the Little Bahamian Bank. The yellow arrow is the wind direction and the black dot is our boat. I will miss the aqua waters of the Bahamas...
Miclo III in the Gulf Stream
Miclo III was our "buddy boat" for the first 24 hours. Since we sail a bit faster, we lost radio contact the second day, however tried to contact each other on single sideband radio at set times each day. They were headed to Charleston, SC, and arrived the second day. We were heading to Beaufort, NC, and arrived the forth day. At times, we were doing 10.4 knots, due to about 4 knots of Gulf Stream speed. Otherwise, we cruise at 6.5 to 7.5 knots. Over 24 hours, that extra push from the current adds up to almost 100 extra miles in a day compared with sailing without the current!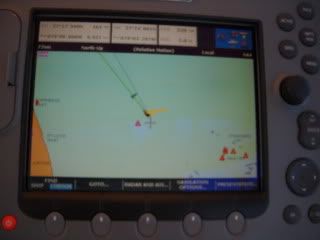 Moonlight Serenade between the Little Bahamian Bank (red waypoints to right) and Florida (brown to left). The black dot in front of us is a ship.



For today's entertainment, NASA launched a Space Shuttle at 2:30 PM! It is odd to see them go off right in front of you!


Our days and nights become a sequence of 4 hours on watch and 4 hours off watch/asleep. My shifts allow me to prepare meals and see the sunsets and sunrises. I am on from 2AM-6AM, 10AM-2PM and 6PM-10PM. The purpose of watch is to prevent a ship from running over us and to oversee the sail trim and other systems on the boat.


Sunset Sunrise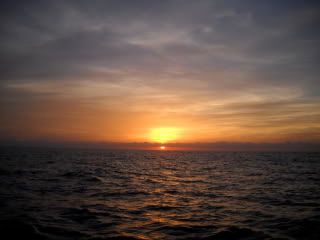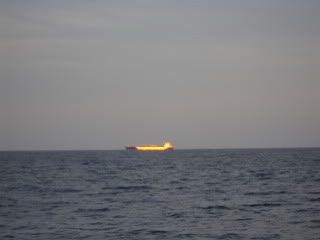 Sunset A ship at sunset



Sunset The moon and a star/planet

By USA law, AIS (Automated Identification System) must be on any vessel 100 feet or larger; however many vessels of all size now have it. The purpose of AIS is to avoid collisions by transmitting vessel information, such as vessel name, size, type of vessel, heading, speed, destination, how close it will come to you, how soon it will be at it's closest point to you, etc. One night, I radioed a ship that was headed directly at me. They had me on radar and changed their course, so we would miss by a mile. I sat at the helm and watched as they approached at 20 knots of speed. When 2 miles out, they suddenly changed course, heading right at us again! I called them on the radio again. The navigators had changed shifts and the new guy switched back to the "proper course," not knowing a sailboat was in front of him. He immediately changed course again. I was glad I had stayed at the helm until we passed, instead of trusting the situation had been resolved and gone down to make hot tea!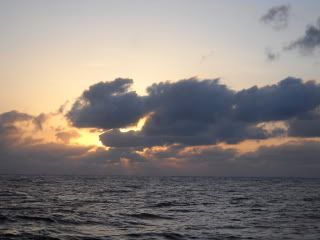 Sunrise Tug towing barge and crane to Cape Canaveral

When I have a tug on AIS at night, I always call them to inquire about what they are pushing or pulling. The light configuration of this tug and two tows would have been quite confusing. There are many stories about boats passing behind a tug, only to be sunk by what it is pulling behind him; often unlit and often 1/4 mile behind!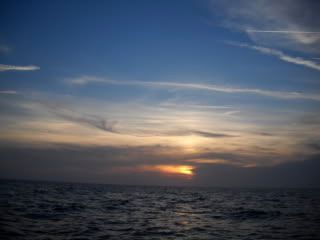 Sunset Sunrise


The entrance to Beaufort, NC
From Beaufort, we went to Oriental and had a fabulous sushi dinner with Matt and Douglass. We shared a dessert; sushi style:
We departed early the next morning, went down the Neuse River, across Pamlico Sound and up the Pungo River to anchor near the Alligator-Pungo Canal. It was a windy day and we had a great sail.
The next day, we motored through the 20 mile long Alligator-Pungo Canal, into and down the Alligator River, across Albermarle Sound and up the North River, anchoring just south of Coinjock, NC.
The Inter-Coastal Waterway (ICW) has it's own challenges, such as passing barges in narrow channels: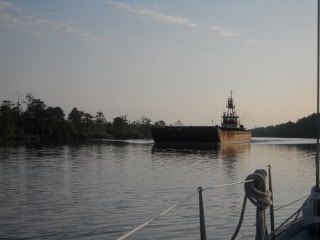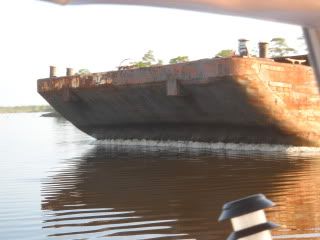 From the North River anchorage, we departed at first light to run the gauntlet of bridges between Coinjock, NC, and Norfolk, VA.

When passing through the Great Bridge area of the ICW, I couldn't help but remember passing through in January... breaking ice...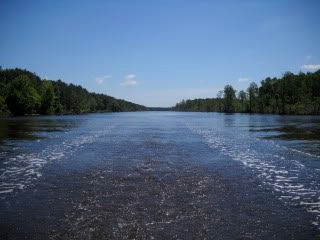 May 20, 2010 Ice... January 14, 2010
We decided to tie up at the North Ferry Landing in Portsmouth. What a delightful town and good restaurants!
Bier Garden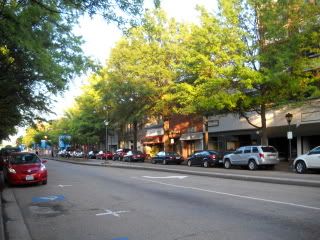 Walking by the South Ferry Landing, we saw our Georgetown, Bahamas, friends, Bill and Sue, on sv-Nice and Easy. They had left Georgetown the day after we arrived there, so it was fun to have breakfast with them and catch up with each other's travels.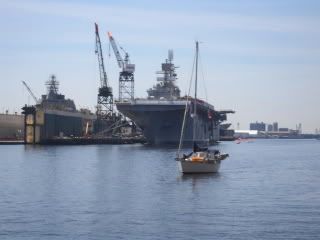 sv-
Nice & Easy
departing Norfolk, VA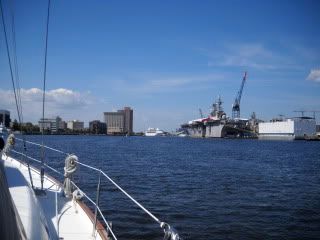 Norfolk, VA Moonlight Serenade at the Portsmouth Ferry Landing
Our arrival in Norfolk always coincides with opening Bill's mother's swimming pool and this year was no exception. Bill's two sons, Jessin and Andy, drove down to help.
Jessin, Bill and Andy That's a LOT of chicken on a tiny grill!
Sunday, May 23, 2010, we departed Portsmouth/Norfolk, VA, and headed into the Chesapeake Bay.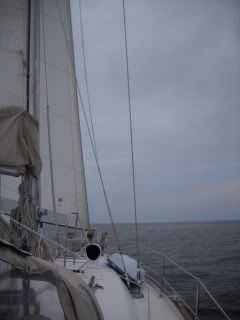 Old Point Comfort
Chesapeake Bay
The first night we anchored in Fishing Bay, Deltaville, VA.
Wolf Trap Light House Smith Point Light House
The second day, May 24, 2010, we made it to hour home base in Solomons Island, MD.
Moonlight Serenade anchored off of Chat N' Chill, Stocking Island, George Town, Bahamas
(
Read more...
Collapse
)

Saturday, March 20th, we departed Miami, motored to Key Biscayne and sailed out of the cut just south of No Name Harbor.
Miami
Eight hours later, we entered the Bahamian Bank through Gun Cay Cut, approximately 50 miles east of Key Biscayne.
Gun Cay Light house
(
Read more...
Collapse
)


Miami as seen from Miami Beach


Having arrived in Miami after a very cold trip south, we didn't find the warmth that had inspired us to keep moving.
(
Read more...
Collapse
)
Two mornings after the Space Shuttle Endeavor launch,

4:14 AM launch of Endeavor, as seen from New Smyrna Beach, FL
(
Read more...
Collapse
)
Today the sun came out and it reached 65 degrees; the first time for both since arriving in Florida! However, in two it will be back in the 30's-50's... burrr..... It's a cold winter...


(
Read more & see photos....
Collapse
)
Friday, January 22, we cast off in Oriental, NC, and motored to Beaufort, NC, anchoring in Town Creek; much less current than Taylor Creek. We had been waiting for a weather window to sail from Beaufort to Florida, but none opened up... so down the ditch we went.
(
Read more...
Collapse
)